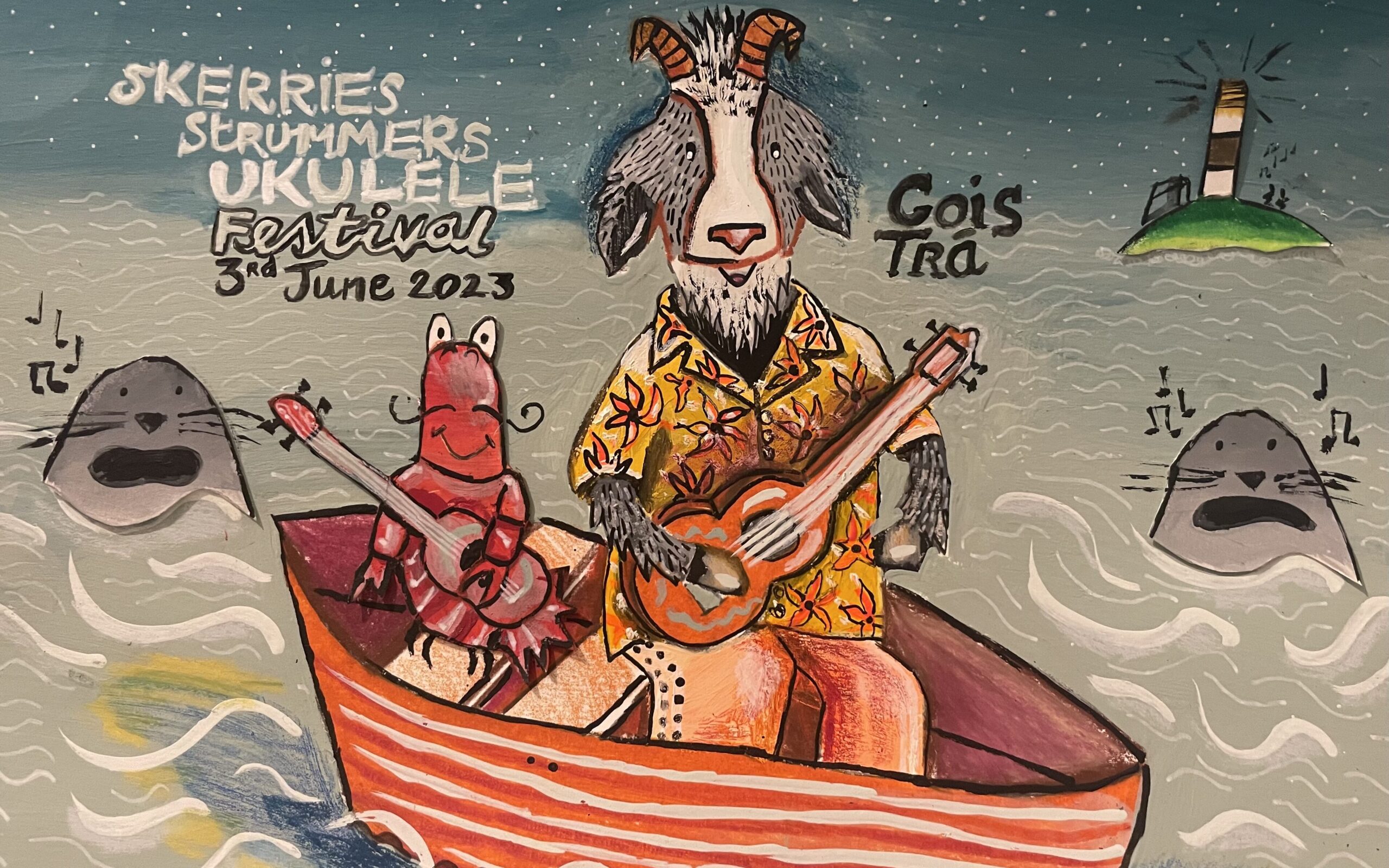 Skerries Ukulele Strummers, founded around 10 years ago by local man Ray McCarthy, are a group of sixty men and women from Skerries and the surrounding area who share a common love of playing the ukulele. We are well regarded in Skerries and are often approached to support fund-raisers and charity events. We have raised funds for many good causes over the years, led by our musical director Patricia Prenty.
We are planning our very first Ukulele Festival in Skerries, County Dublin. This will take place on Saturday 3rd June 2023.
Our festival will bring Ukulele lovers together from all over Ireland and abroad to make music, learn new skills, have fun and share our love of music and song with all. The festival includes 3 morning workshops, including a complete beginners Introduction to Ukulele, with instruments provided. In the afternoon a 'Busk on the Festival Bus' takes place visiting three local landmarks for tunes and craic.
First stop will be at Balbriggan Harbour, followed by Ardgillan Castle and finally at the Man O ' War Pub. Later on an evening Concert upstairs in Skerries Sailing Club will take place featuring Skerries Ukulele Strummers, The Paris Ukulele Group, Polythene Jam and RUGs. The day will end with a free jam open to all downstairs at the Sailing Club.
Watch out also for flash mobs around the Town of Skerries during the day which will create a fun atmosphere in our beautiful setting beside the sea.
A big thank you goes out to all our generous sponsors who are supporting us in funding the festival. If you are interested in sponsoring the festival we would be grateful for any financial support and will be sure to highlight this along with our other sponsors on our social media. We will also have a list of sponsors displayed in a poster format at the sailing club on the day.
Tickets for the various events are on sale with Eventbrite by following link: https://www.eventbrite.ie/e/skerries-ukulele-festival-including-workshops-busk-bus-concert-and-jam-tickets-594155393777
---